COVID-19 Resources
The Coronavirus outbreak is challenging our nation and our Commonwealth. Below are some resources and information to help during this time.
If you are not already watching Governor Beshear's 5 pm daily press conferences, I recommend them. You can find the press conferences on the Governor's Facebook or on his YouTube channel.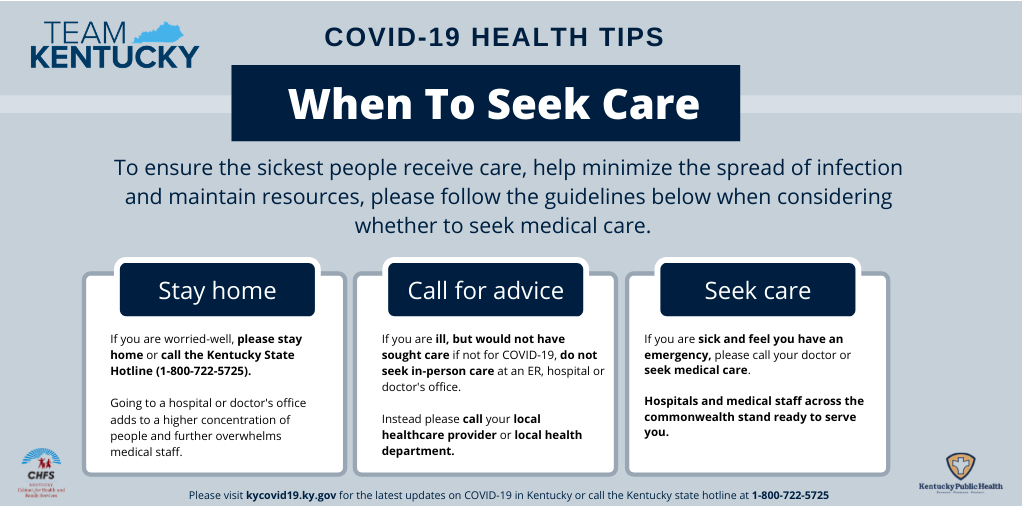 KY COVID-19 Hotline: 800.722.5725
The hotline contains information about COVID-19, available resources, and what to do if you think you've been exposed.
The above website contains all Kentucky information, including the most up to date news about the outbreak, closures, and executive orders.
Kentucky Labor Cabinet's hotline 1-833-597-2337
Report businesses or groups that are putting people at risk by gathering .
Attorney General's Consumer Protection hotline at 1-888-432-9257.
Report price gouging.
The above website lists every single action that the Governor has taken to address COVID-19 since 3/6/2020, the day he declared a State of Emergency. It also includes links to lots of resources, including all of the Executive Orders the Governor has issued.
For information from the CDC, click here.

If your employer cuts your hours by 1/4 or more, you should file for unemployment. You don't have to have been formally laid off. Governor Beshear has temporarily suspended the seven-day waiting period to file for unemployment.
State lawmakers recently expanded Kentucky's Unemployment Insurance (UI) program to cover more people during this time, including:
People who have lost work or have had work hours reduced due to COVID-19.

People who typically aren't eligible, including self-employed, independent contractors, freelance workers,

substitute teachers, and many childcare workers.

UI typically provides between $39 and $552 per week. Under the federal CARES Act, benefits are extended from 26 to 39 weeks, with an additional $600/week in benefits for four months (through July 31st).

Online: https://kcc.ky.gov/

Call: 502-875-0442

Due to a high volume of applications, please use the call schedule below.

Sunday: A-D

Monday: E-H
Tuesday: I-L

Wednesday: M-P
Thursday: Q-U
Friday: V-Z and anyone else who missed their day

Medicaid (health insurance)

The fastest way to get Medicaid right now is to complete this fast-track application for temporary coverage (sometimes called "presumptive eligibility" or "PE"). This type of temporary Medicaid coverage will last through June 30th, 2020. It is available to Kentuckians who are uninsured and under the age of 65, regardless of income. Once you have temporary coverage, you can fill out the full application on benefind, to see if you are eligible to stay on Medicaid past June 30th.

Complete the fast-track application to get enrolled in Medicaid quickly: https://medicaidpeform.chfs. ky.gov/GenLogEX/Detail.aspx?TK=103&Item=0

For questions, call the KY Healthcare Customer Service Line: 1-855-459-6328.
ALREADY RECEIVING BENEFITS? READ THIS BEFORE YOU CALL DCBS: If you are already enrolled in Medicaid, SNAP, KTAP, or CCAP, your benefits have been automatically extended by 3 months. This means that if you would typically reapply for benefits on April 30th, your benefits are now extended until July 31st. Benefits that would have ended on May 31st are now extended to August 31st and so on.
DURING THE COVID-19 STATE OF EMERGENCY:
Medicaid beneficiaries will not be disenrolled unless they request it or move out-of-state.

ALL Medicaid copays and prior authorization requirements are suspended.

SNAP benefits will increase in April and May for many households.

SNAP, CCAP, and the Kentucky Works Program have suspended job search, work, and participation requirements.

CCAP daycare attendance requirements are suspended and copays will be covered by the state during this time.